TECHNICAL RESOURCES GUIDE​
Shaft lengths – which is right for your boat?
Selecting the correct model for your boat is the first step, then shaft length and power are the next two critical factors to ensure you get the best performance out of your Haswing trolling motor.
Shaft length is particularly important for bow mount models such as the Cayman series, as bow deck to water height varies depending on the type of boat you will be mounting the motor on. Obviously on a low-sided open fishing boat that distance will be less than a 7.0M deep-V ocean going fishing boat.
A reliable benchmark is to measure the distance from the front of the bow deck where the motor will be positioned to the waterline, then add 500mm in order to ascertain the correct or even minimum shaft length. Though if you regularly fish in rough water, you could add another 125mm to that overall shaft length to account for the boat bobbing up and down in the rough water. You of course can adjust the required shaft length to suit the conditions by adjusting the 'height collar' on the shaft. Better to have extra length available when needed than insufficient.    
How to Measure Shaft Length
Measuring the shaft length is an easy task, as shown on the diagram below you actually measure the shaft from under the trolling motor head to the top of the propeller housing.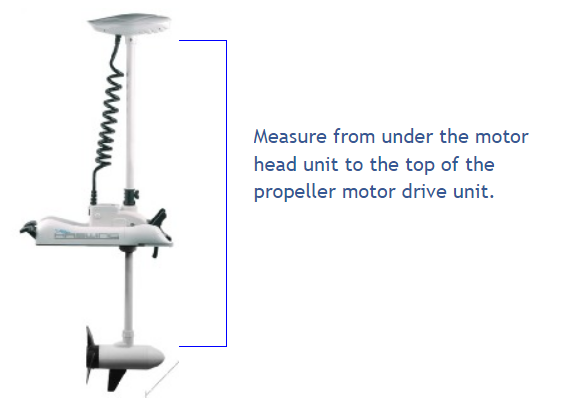 BOW TO WATERLINE
0-254mm (10")
254-560mm (16"-22")
560-760mm (22"-30")
760mm +  (60" +)
RECOMMENDED SHAFT LENGHT (minimum)
915mm (36")
1070mm (42")
11220-1370mm (48"-54")
1370-1524 (54"-60")
BOW TO WATERLINE
0-254mm (10")
4-380mm (10"-15")
380-508mm (15"-20")
508-625mm (20"-25")
RECOMMENDED SHAFT LENGHT (minimum)
760mm (30")
915mm (36")
1066mm (42")
1218mm (48")
REMEMBER –  there should be at least 300mm (12") from the waterline to the top of the motor under the water to prevent cavitation in choppy conditions.